Uygur women take to social media in Xinjiang
Share - WeChat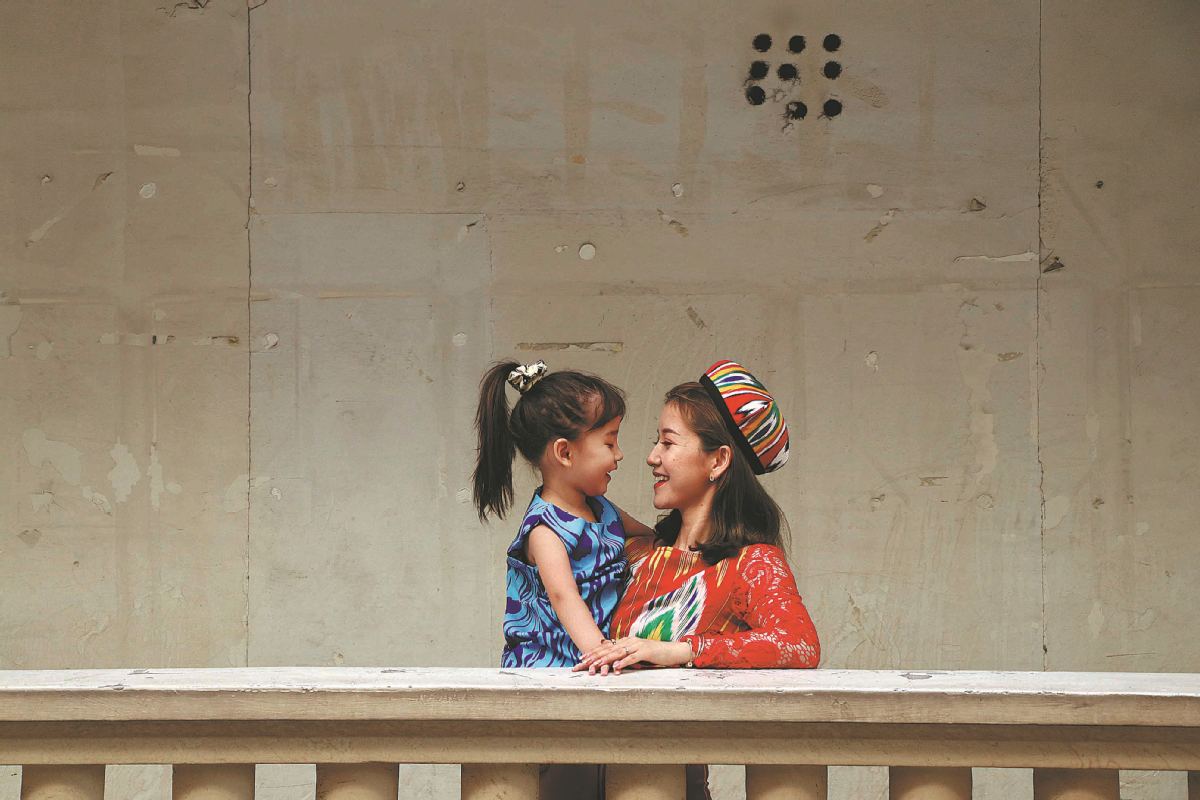 Increasing numbers using platforms to showcase their beauty, hometown attractions
Posing for photographs, Gulmira Abliz pushes her chin and head slightly forward to show her sharp jawline. Sometimes, she looks directly into the camera with her shining eyes; on other occasions, she looks away from the lens.
For full-length portraits, she plants one foot in front of the other and pulls her shoulders back to create a silhouette that accentuates her trim body.
From her radiant smile and the way in which she practices different poses, it is easy to see she is not only a beautiful woman, but also has confidence in herself.
Gulmira poses at restaurants, shopping malls, fitness centers and tourist attractions in Urumqi, capital of the Xinjiang Uygur autonomous region, during weekends. She plans to become an online influencer by sharing photos and her experiences at such venues on the fashion and lifestyle platform Xiaohongshu, which translates as Little Red Book.
"I formed this career plan two months ago, as many of my female friends have taken to social media to share their lifestyles," she said.
She often meets one of her friends at a venue, where they take photos of each other and also post tips about their visit on social media to attract more followers.
Gulmira, 31, has a 6-year-old daughter who is learning piano and street dancing. She posts video clips of the girl practicing and also shares ideas about parenting on Xiaohongshu, winning praise from the platform's users.
"I want to record my daughter's growth on the platform," she said, adding that she hopes that encouraging comments and praise from netizens can help the girl take part in talent competitions.
Gulmira used to study at Hunan University's School of Environmental Science and Engineering in Changsha, capital of Hunan-province. During that time, she had the chance to become a part-time model posing for photos for a clothing store on the Taobao e-commerce platform and to appear in programs produced by Hunan Satellite Television.
"Such experience helps me build confidence," she said.
After graduating in 2013, Gulmira landed a job with a real estate company in Guangzhou, capital of Guangdong province, where she met colleagues and friends who loved to go hiking, play badminton and exercise in the gym during their spare time.
"Their healthy lifestyles inspired me. After I returned to Urumqi and became a civil servant with the local environmental protection bureau, I continued to go hiking twice a month," she said.
Gulmira often stages livestreaming sessions during her daily workout at the gym.
After giving birth to her daughter, her weight rose to 78 kilograms, but she slimmed down by completing a strict fitness plan.
"Many people who witnessed my weight change always ask me how they can shed kilos and keep fit," she said.
"The diet and traditions of we Uygur women become more family-centered after marriage. Many women tend to be overweight or even obese after giving birth. By livestreaming my bodybuilding steps, I want to encourage them to be more self-disciplined and take care of their bodies and health when they become mothers," she added.
Gulmira said Uygur women used to be conservative, but in recent years increasing numbers of them in Xinjiang have been using social media platforms such as Douyin, Xiaohongshu and Bilibili to highlight their beauty or the attractions of their hometowns, drawing more followers from the region and elsewhere.