Singing nature's praises
Share - WeChat
Carrying a guitar, maraca, camera and drone while spending almost three hours climbing a wild mountain road, Liu Liyuan and her husband, Yu Hanyi, finally reached the top of Shenzhen Astronomical Observatory.
Finding a comfortable corner amid the beautiful scenery, the couple sat down and began to play the instruments, singing quietly, with the camera recording. They chose Guangnian Zhiwai (Light Years Away), the Chinese theme song of the space movie Passengers (2016).
"The song was selected according to the location. The observatory and the lyrics are all about outer space," says Liu, 32.
As a science-fiction fan who is obsessed with the observatory, Liu says that even though the process of climbing the mountain was painful and she was afraid when sitting on the top of the mountain without a fence, she was glad to sing there.
"Few people have the chance to sing in such a beautiful place. I just wanted to sing suitable songs amid a beautiful scenery in different places," Liu adds.
After returning to Shanghai, Yu made a music video and posted it on their WeChat account, Hanyi & Liz, receiving hundreds of likes.
Music, travel and love are three of the most important things in the couple's life. They run a cultural company while having different jobs. They have found a perfect way to fuse them-sharing their travel music videos online.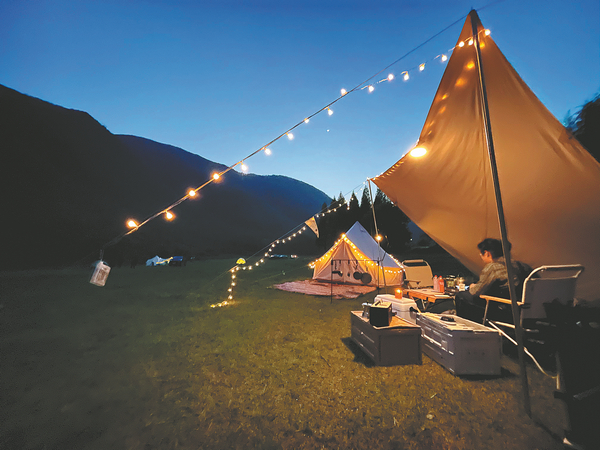 Different backgrounds
Compared to celebrities who take vlogging as their major focus, Yu and Liu are not professionals in this field.
Yu, 29, who holds a degree in agriculture, once landed a job with the local government in his hometown, Shaoxing in Zhejiang province, but quit shortly after he realized that his true calling in life was music.
He runs the cultural company and sings renditions of popular songs, as well as his own creations along with Liu, who is a real estate analyst with a chartered financial analyst's certificate. She graduated from Fordham University in New York City.
Liu and Yu met at a mutual friend's store in Hangzhou, Zhejiang province, and they soon got married after finding many similar experiences and hobbies, especially music.
After marriage, they moved to Shanghai. Before running a licensed music performance production company, specializing in event planning, art performances and stage design, they also got a street performer's license and became two of the over 300 street artists there.
Performing occasionally on the streets, planning performances and activities, while composing and working, the couple are doing what they like and earn enough to support themselves at the same time.
However, the COVID-19 pandemic has interrupted their plans.
"The pandemic has had a great impact on us. Most commercial performances at shopping malls and annual meetings of enterprises had been suspended. We began to think about what to do next," says Yu.
They once watched a music video by the Canadian brother duo of Bob and Clint Moffatt called Music Travel Love. The brothers sing popular songs while traveling across the world, using scenery as the background for videos. Inspired by them, the Chinese couple made their first attempt with simple equipment in Songjiang district, suburbs of Shanghai, during the lockdown in January 2020.
When the pandemic situation in China improved later last year, they went to different cities and scenic spots to record with upgraded equipment.
If conditions permit, they bring cameras, tripods, mixers, microphones, musical instruments-including the keyboard, a guitar and maraca-recording pens, drones, and other equipment along.
The longest trip took them 17 days. Starting from Shanghai, they drove to the south along the eastern coast and visited seven cities, including Wenzhou in Zhejiang province, Xiamen in Fujian province and Shenzhen in Guangdong province.
So far, they have recorded around 40 songs in more than 16 cities. Their videos on WeChat have reached over 200,000 clicks. They also share them on short-video platforms Douyin and Bilibili, and social media platforms such as Sina Weibo and Xiaohongshu.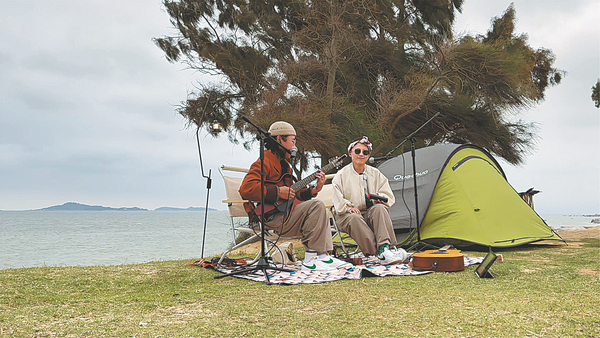 Facing difficulties
A challenge they meet while making music videos is finding a way to avoid crowds.
"A problem in these scenic spots is that there are too many people around. When recording, we want to avoid crowds as much as possible, like the Music Travel Love duo recording most of their videos in the wilderness," Yu says.
He adds that singing on site depends on the atmosphere. If the sound is loud enough and the overall atmosphere is good, then it would be a success. But the recorded music should be exquisite, and the details are particularly important.
"It can only be passed as one take," Yu says.
The weather occasionally determines their plan, and they also need to think about the camping environment. They have slept in tents during trips before.
"A poor camping environment once delayed our plan in Golmud, Qinghai province. So we bought a caravan this year," Liu says.
But for Liu, balancing her life between being a real estate analyst and musician is not easy.
"You can see me opening my laptop to finish my job while singing on the street or traveling, even in a very difficult environment," she says.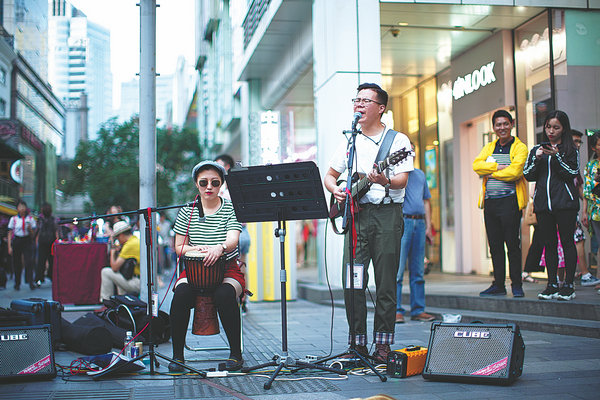 However, as they want to continue to deliver positive energy through their music videos, they are ready to meet the difficulties, she adds.
Yu says: "I've seen many comments written by fans or netizens. They named us the 'knight-errant' couple who wander freely in the world with music. The attitude encourages a lot of people.
"This makes us want to adhere to it and continue sharing music and love."
Similarly, a variety show, titled Bianzou Bianchang (Singing While Walking), by streaming platform Mango TV was launched on Aug 17, which is designed as a group trip for musicians.
Five groups of singers are invited to visit five destinations on the show. They sing all the way while traveling to deliver the beauty of nature and music to the audience.
The show now has over 14,000 followers on Sina Weibo.
"Many people think this kind of life attitude endorsed by music and travel is perfect. I don't think it is a very hard thing to do. If you love life, there will always be a lot of good content to convey that love," Liu says.
Contact the writer at heqi@chinadaily.com.cn
Most Popular