Running 'twins' inseparable in glory
Share - WeChat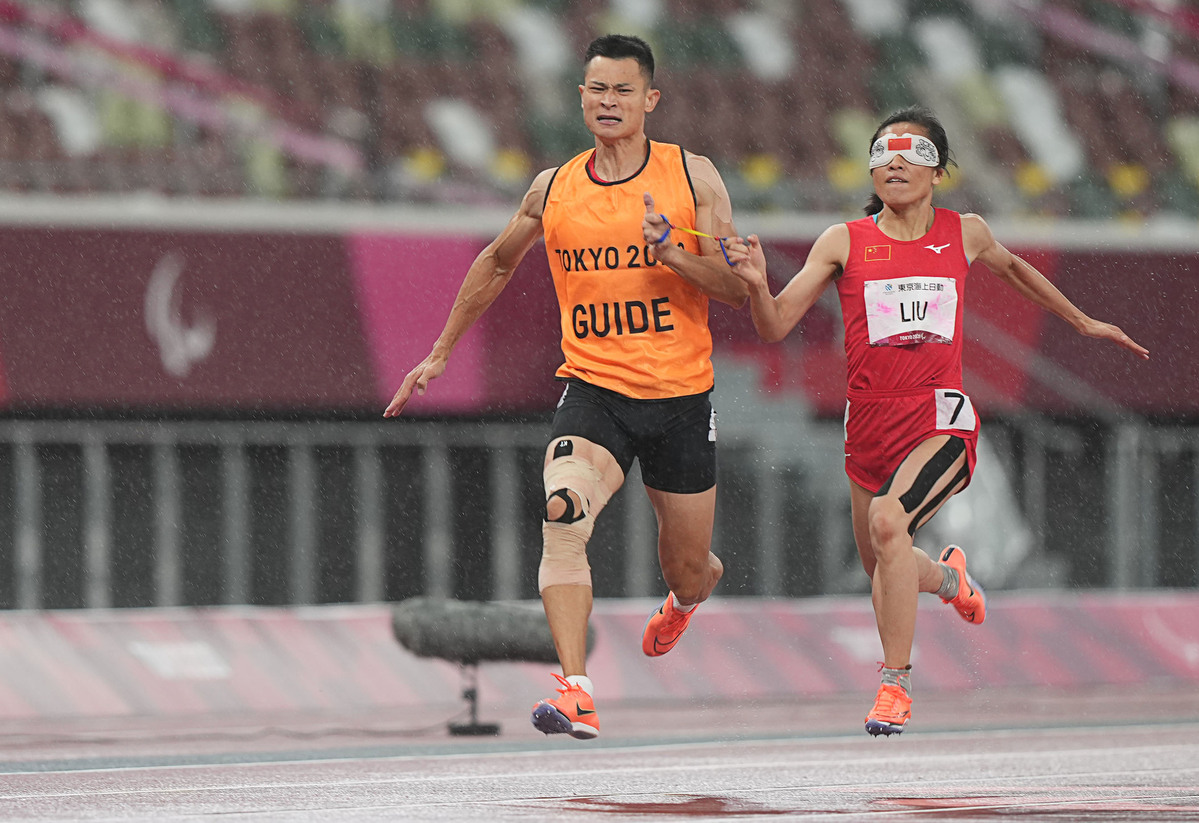 Visually-impaired Chinese sprinter Liu Cuiqing won two gold medals at the Tokyo 2020 Paralympic Games, led by her sighted guide Xu Donglin.
The 30-year-old world record holder ran 56.25 seconds in the T11 women's 400m on Aug 28, breaking the Paralympic record, before going on to win gold in the T11 women's 200m final in 24.936 seconds on Sept 4.
The victory was shared by Liu and Xu. After the women's 200m event, Xu raised Liu up high as she held and waved the national flag. The moment sparked a sensation online.
The teammates have trained hard together for eight years. Liu was born in 1991 into a rural family in Nanning, capital of the Guangxi Zhuang autonomous region. At age 10, she lost her sight as the result of an eye condition.
One of the teachers at the school for the blind she attended discovered her talent for running and encouraged her to develop as an athlete. In 2010, she joined the national athletics team for disabled people.
As a blind person, she has had to endure countless falls and getting back on her feet. "Our world is all black. We learn things slower than other people do," she told China Central Television.
Sports competitions for disabled athletes require blind runners to be assisted by a guide. Liu met Xu in 2013 and since then, the two have cooperated, linked by a thin 10-centimeter-long rope.
"To other people, this may just be an ordinary rope, but for us, it is the eye, the direction and trust," Xu told CCTV.
Liu said they are heavily dependent on the feel of the rope.
"We rely on the rope to feel the turns and the distance between us. We are like twins. We have an implicit understanding," she said.
To develop seamless cooperation, they have become almost inseparable and have completed every training session together.
Xu gave Liu instructions for each step she made, helped her with weightlifting exercises and resistance training. When they run, he tells her the rhythm, direction and speed. One false move could see them both fall.
"Only when she trusted me completely was she able to run boldly," Xu said.
At the 2016 Paralympic Games in Rio de Janeiro, Brazil, the two athletes won gold in the T11 women's 400m. After crossing the finish line, Xu fell heavily as the result of a torn meniscus cartilage in his right knee.
"In fact, when I was running, my leg was already so painful that I could not feel anything. I only had one thought, which was to accompany her (Liu) to the end. Even if I was lame, I had to take her to the finish line," he told CCTV after the race.