Disabled swimmer revels in golden Games
Share - WeChat
Paralympian finally achieves dream after years of devotion and struggle. Li Lei reports.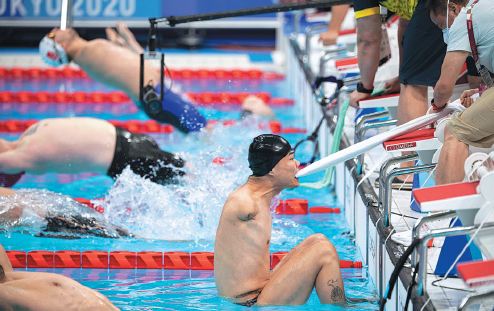 Paralympic swimmer Zheng Tao, who has no arms, sat back in the water, clenched a towel between his teeth to support his body and waited for the starting cue.
When the race got underway, Zheng, dubbed the "finless flying fish" on Chinese social media, darted away and quickly took the lead, trailed by teammates Wang Lichao and Yuan Weiyi.
He breathed rhythmically as water splashed around, his feet kneading the water like propellers and his torso creating waves like an eel.
At the finish line, he dashed his head-the foremost part of his body when he swims-hard against the wall of the pool, setting a world record of 30.62 seconds at the Tokyo 2020 Paralympic Games. Wang came second and Yuan was third.
The event-the men's 50m butterfly S5 final-took place on Aug 27 at the Tokyo Aquatics Center.
Zheng lifted his head out of the water to check confirmation of the time on the screen. Then he let out a victory cry and raised his left foot into the air to mark the long-awaited moment.
"I made it. I wanted the gold so bad. After all, I missed it in the last two Games," the three-time Paralympian said during an interview after the race.
The 31-year-old, from the southwestern province of Yunnan, made it to the finals of the same event at the 2012 and 2016 Games. However, both turned out to be close misses, with Zheng taking silver each time.
This year, though, he smashed the world record in the event and broke three other records, consolidating China's traditional dominance in swimming at Paralympic Games.
One of those records came on Sept 1, when he won the men's 50m freestyle S5. By winning the event, Zheng captured Team China's 500th gold since the country's debut at the 1984 Games held in Stoke Mandeville, England, and New York in the United States.