Ethnic solidarity goes on show
Share - WeChat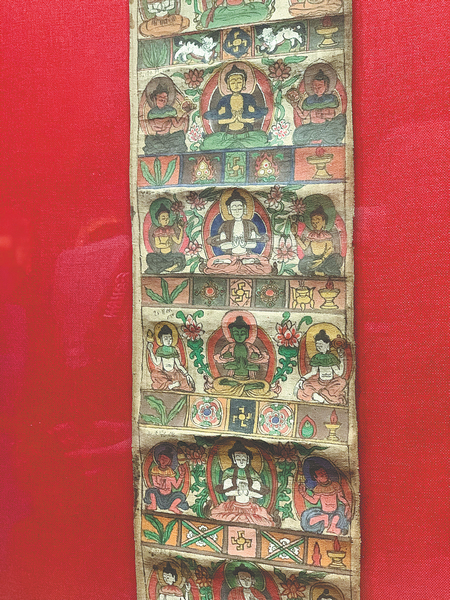 "Uncle Qurban" was known for attempting to go to Beijing by riding a donkey several times in his 70s-not knowing it would be a journey of over 3,000 kilometers-but was persuaded back.
Born in an impoverished farmer's family, he received his own plot of land after the peaceful liberation of Xinjiang in 1949 and life greatly improved since.
He then kept writing to Mao expressing his appreciation and finally got to meet Mao in person when representatives from Xinjiang came to Beijing to visit a national agriculture exhibition in June 1958.
In 2017, President Xi Jinping replied to a letter from Uncle Qurban's eldest daughter, saying he hoped the large family of over 100 members could keep their faith in the Party, the motherland and the Chinese nation and endeavor to promote people from all ethnic groups to tightly hold together like pomegranate seeds.
On show are also pieces of Tibetan craftwork the 10th and 11th Panchen Lamas sent to top leaders over the decades, as well as Buddhist artifacts the 14th Dalai Lama presented to Mao before he fled abroad in 1959.
In April 1951, the 10th Panchen Lama went to Beijing, expressing his support to the central government and actively promoting negotiations between the central government and Tibet's local government on the peaceful liberation which took place a month later.
During the time in Beijing the 10th Panchen Lama sent to Mao a national flag made in gold with a greeting to him inscribed on it.
In the 1950s, one representative of the Gaoshan people, in Taiwan, made a silk banner on which was embroidered "dedicated to Chairman Mao, the Gaoshan people will always follow your steps".
These gifts have previously been to Yunnan, Qinghai, Hebei provinces and Guangxi Zhuang, Ningxia Hui, Inner Mongolia autonomous regions for exhibition, says Tao Ying, director of the museum, adding that they have proved the ethnic groups' recognition of the country and their support for the Party.
Most Popular