Clicks or no clicks, the show goes on
Share - WeChat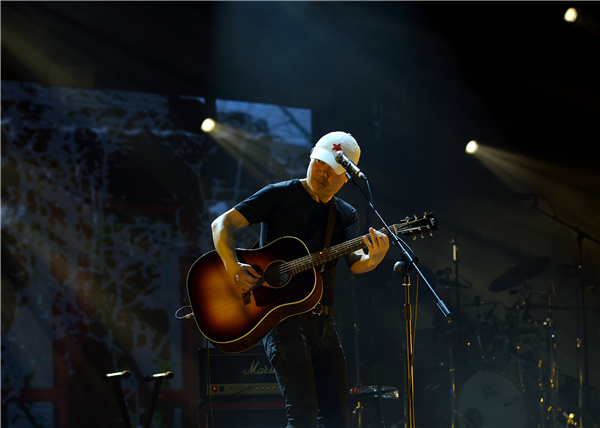 Wearing a black T-shirt and a pair of loose shorts, Cui Jian appears in a restaurant in downtown Beijing on a weekday afternoon. With his trademark white baseball cap with red star pulled low over his face, he tries to keep a low profile and walks quickly to the balcony, where he sits down near a table and orders a can of ginger ale.
The veteran rock singer-songwriter is legendary figure in Chinese rock music, the media calling him "the godfather of Chinese rock 'n' roll".
When Cui stepped onto the stage to perform at a concert at the Beijing Workers' Stadium in 1986, few Chinese knew what rock 'n' roll was. At the packed venue, Cui, then 25, performed his original song Nothing to My Name. That marked the start of a long journey both for him and rock music in China.
Two weeks ago Cui released his latest album, A Flying Dog, and now he is ready to talk about it. He spent a long time making the album, featuring eight original songs he wrote between 2017 and 2018, and he says it is in line with his ideas of musical experimentation.
"I delayed the release because I wanted to make each song sound perfect. I was in no rush. I do the recording in my own studio, getting up in the afternoon and working until 3 o'clock the next morning. Of course the studio is soundproof, which means I can play my trumpet in the wee hours without worrying about disturbing my neighbors."
The opening song, A Flying Dog, first released in March, is a solid piece of work that is powerful and thought-provoking, the official translation for the opening lyrics being:
Sitting in front of the computer and looking like a dog,
The digital world is like a vast grassland and all the information feeds you,
An idea came into my mind, which is like time-traveling,
I walk with the grassland, against all rules. The second song, B-Side of Time, is a reflection of Cui:
Looking into the fun-house mirror, I see the A-side of time,
Just like everybody else, I can only see my own face,
Are you really there within, being transformed by the age?
Suddenly someone shouts back, "Why the hell would I change?"