Beijing launches global campaign for winter tourism
Share - WeChat
A global promotional campaign titled "Great Wall Hero 2021—Beijing Winter Charms" kicked off at the National Speed Skating Oval in Beijing on Thursday, aiming to promote winter tourism of Beijing from various aspects such as ice and snow leisure sports, cultural exhibitions and performances, local cuisine and New Year folk customs.
During the event, three different tourist routes were recommended which tourists can enjoy during the Beijing Winter Olympics in February next year. The names of the three routes are "Exploring the Double Olympic City of Beijing", "The Nature Tour at the Foot of the Great Wall" and "A Trip to the Snow Town of Zhangjiakou".
As the fifth year of its running, the global "Great Wall Hero" campaign has endeavored to promote the cultural and tourism resources of Beijing through internet celebrities on overseas social media platforms.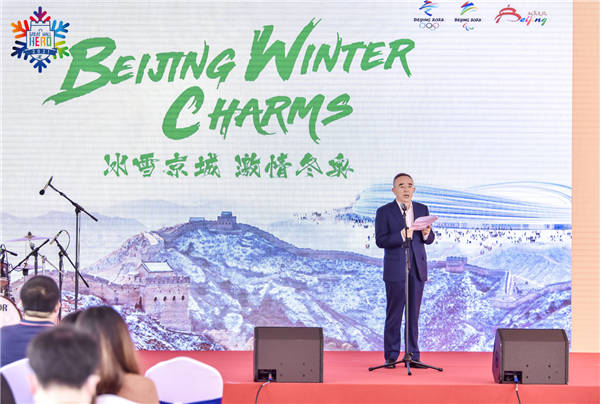 The event is co-sponsored by the Beijing Municipal Culture and Tourism Bureau, Beijing Organizing Committee for the 2022 Olympic and Paralympic Winter Games, and the National Speed Skating Oval.
The National Speed Skating Oval, also known as the "Ice Ribbon", will be officially unveiled at the 2022 Beijing Winter Olympics. It is Asia's largest full-ice surface venue and uses the world's most environmentally friendly ice-making technology: carbon dioxide transcritical direct cooling ice making system.