Beijing 2022 preparations steal show at trade expo
Share - WeChat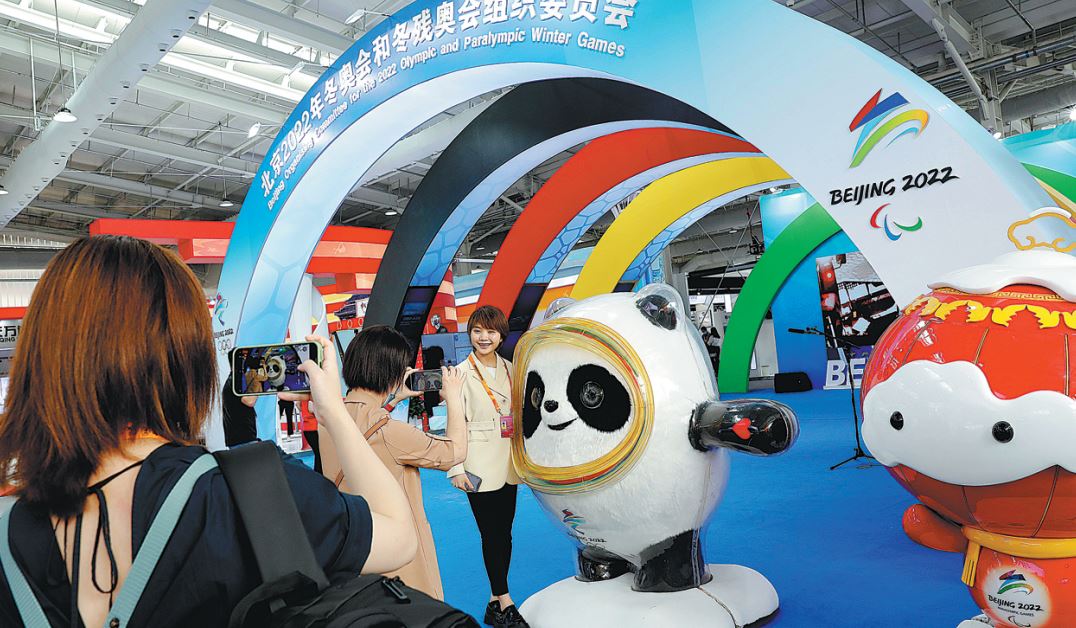 International guests wowed as Games tipped to change winter sports landscape
With Beijing 2022 fast approaching, the international winter sports community has expressed increasing confidence of witnessing safe and successful Games, not to mention a thriving legacy beyond the closing ceremony.
That was the consensus among representatives of governing bodies, NGOs and commercial enterprises from around the world at the latest edition of the annual World Winter Sports (Beijing) Expo.
The six-day event, which closes on Tuesday, showcased the latest products, technologies and services from over 500 brands in the winter sports sector at west Beijing's Shougang Industrial Park.
With only five months to go before the Beijing Winter Olympics open on Feb 4, the host's preparations for the Games have featured prominently at this year's expo.
"What is clear already now is that all elements are in place for China to deliver a spectacular Olympic Winter Games Beijing 2022 that will change the landscape of winter sports forever," International Olympic Committee president Thomas Bach said in a video message at the expo's opening session on Friday.
Despite the ongoing COVID-19 pandemic, which forced the Tokyo Summer Games to be postponed for a year, Beijing 2022 organizers have refused to let logistical challenges undermine their promise of hosting the Winter Olympics in a streamlined, safe and excellent manner.
All the Games' 12 competition venues have been completed and tested across three zones-downtown Beijing, its northwest Yanqing district and co-host Zhangjiakou's Chongli district.
The remaining work on non-competition facilities is scheduled to be completed by October.
Beijing 2022 organizers are now busy finalizing details for hosting the final round of 10 test events, which will allow foreign athletes and technical delegates to participate, from October to December.
Benefiting from an IOC-initiated knowledge transfer program, Beijing 2022 organizers have been developing their own COVID-19 countermeasures, reflecting on the protocols adopted by their Japanese counterparts during the Tokyo Summer Games. Those measures are expected to be trialled during the forthcoming test events.
"I'm very happy to say that after a little more than a year and a half of a pandemic-ridden world, the project of Beijing 2022 is up and running, and it has completed all the expectations of all the people involved," IOC vice-president Juan Antonio Samaranch, also chair of the Beijing 2022 coordination commission, said in an online speech.
The first round of test events at snow sports venues in February and ice sports facilities in April, which only allowed access to domestic athletes due to the pandemic, proved to be a valuable learning experience, added Samaranch.
"We know it's not ideal. We all know. But we adapted," he said. "You guys in Beijing 2022 adapted to a very difficult situation, and you did very well.
"Those tests brought us information on the field of play, on security, timing and refereeing, scoring, COVID countermeasures, sport presentation, and venue readiness."
Those in attendance at the expo were equally impressed by China's push to popularize winter sports among 300 million people.
"I believe that the success of these Games will have great significance for the development of the ice and snow industry in China and the world at large," said Swedish businessman Johan Eliasch, the newly elected president of the International Ski Federation.
According to the General Administration of Sport of China, the country had built 803 ski resorts by the beginning of this year, up 41 percent from 2015 when Beijing won the right to host the 2022 Games.
The GASC estimates that will pave the way for the market value of winter sports to reach a national target of 1 trillion yuan ($155 billion) by 2025.
The lack of training expertise, resort management know-how and high-end manufacturing of winter sports gear in China's fast-growing market is opening up business opportunities that are exciting international investors and companies.
Gianpaolo Bruno, director of the Beijing Office of the Italian Trade Agency, believes Beijing 2022 will help Italian brands to enter the Chinese market like never before.
"It can promote the development of relative Italian industries, such as food, health, medical and safety equipment, and tourism," Bruno told Xinhua at the expo.
As the guest nation of honor at this year's expo, Italy demonstrated its rich experience in winter sports equipment production and event organization, which Bruno expects to benefit China's winter sports promotion.
Having hosted the 2006 Winter Olympics in Turin, Italy will stage the 2026 Games in Milan and Cortina.
The Italian Olympic Committee, the Italian Winter Sports Federation and the Italian Ice Sports Federation are actively cooperating in preparing for Beijing 2022, said Bruno.
Austria, a two-time Winter Olympics host, is also ready to offer assistance to China, according to Karl Stoss, the head of the Austrian Olympic Committee.
"Whenever you need a support, whenever you need a helping hand, Austria is always your friend," he said.