Snowboarders beef up Beijing preparations
Share - WeChat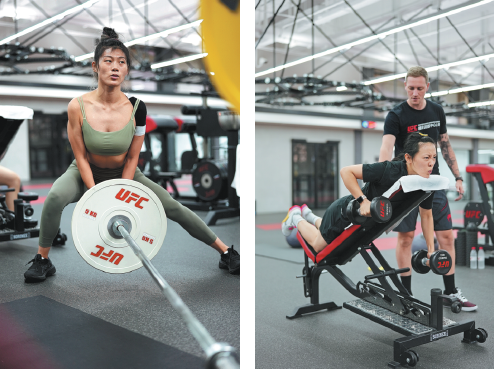 Far from the slopes, China's top snowboarders are taking cues from inside the Octagon as they shape up and toughen up for next year's Beijing Winter Olympics.
As part of an agreement between Ultimate Fighting Championship and the Chinese Olympic Committee, the Las Vegas-based mixed martial arts organization opened its Performance Institute in Shanghai to Liu Jiayu and Cai Xuetong last month, with the two riders undergoing tailor-made strength and conditioning programs.
Already, the pair are encouraged by the results as they smash through their physical limits ahead of the all-important Olympic season.
"The training here is customized, data-driven and guided one-on-one. Everything is measurable here. It's really about yourself and targets where you need to improve urgently," Liu, a halfpipe silver medalist at the 2018 Winter Olympics in South Korea, said in an online interview last week.
"I've gained more muscle obviously on my body and improved my core strength to potentially hang in the air longer, which makes it possible for me to do more difficult tricks."
Cai, a two-time world champion (2015-17), said that the wealth of amenities at the PI, including cardio and strength training equipment, hypoxic labs and cryotherapy chambers for recovery, is mind-blowing.
"It's quite different from most of the offseason training I did before in the sense that it's more efficient, and facilitated by a vast array of modern technology and equipment," added Cai, a winner of 12 International Ski Federation (FIS) World Cup legs in halfpipe.
Working alongside Felix Falkenberg, UFC China's sports science and performance manager, Cai has significantly increased her upper body strength, which improves her balance while performing twists and flips in the air.
"The UFC Performance Institute is hosting the non-technical strength and conditioning program for them to be ready for their World Cup competitions prior to the Beijing Winter Olympics," explained Falkenberg.
"Our programming is designed to get them ready for those competitions, regarding strength, power and energy system demands."
As one of the most entertaining events to watch at the Winter Olympics, halfpipe snowboarding involves riders performing hair-raising tricks after launching themselves skywards off a long semicircular ramp. Judges score performances based on trick execution, variety, amplitude and creativity.
Falkenberg said the collaboration showed the PI's compatibility with elite athletes of all sports.
"We learn new things each time we have different sports at UFC PI," he said.
"We conduct a very thorough sport analysis using the most recent scientific literature to ensure that the training we provide is cutting edge.
"Our communication with head coaches and support staff is always very interesting as we learn from them, as well as educating them in the systems that we apply to our MMA athletes."
As part of its agreement with the COC, UFC is serving as the official high-performance adviser to China's national sports program. The Shanghai PI hosted 14 of Team China's medal winners as they prepared for the recent Tokyo Olympics.
Homing in on gold
With Beijing 2022 just over five months away, Liu and Cai are feeling confident about their progress.
"My goal is to peak at the home Olympics. I've won silver and of course now I'd like to go one step higher on the podium," said Liu, a 28-year-old Heilongjiang native, who finished fourth in her Olympic debut in 2010.
Liu is renowned for pulling off technically challenging tricks, and is currently working with Australian trainer Benny Bright-the brother and former coach of 2010 Vancouver Games' halfpipe winner Torah Bright-in a bid to add more style to her routines. She will need every little advantage she can find as she prepares to battle it out with defending Olympic champion Chloe Kim of the United States.
"To be competitive at the Olympics, you definitely need breakthroughs each and every time," said Liu, who was beaten to silver by Kim by an 8.5-point margin in the final at the 2018 Games in Pyeongchang.
Kim, a California native with South Korean heritage, proved that she remains the one to beat at Beijing 2022 by retaining her world championship title in March at Aspen, Colorado. The 21-year-old sat out the 2019-20 season to study at Princeton.
Far from being daunted, both Liu and Cai relish testing themselves against such tough opposition.
"Snowboarding is really about the vibe on that particular day and the momentum in that particular run," said Liu. "I think everyone who starts on top of the pipe in the final has the chance to win. Nothing is done until the final trick is stomped."
Cai echoed those sentiments, but said her focus is on perfecting her own performance, not on worrying about what her rivals are doing.
"I feel like I've never demonstrated what I am truly capable of at previous Games due to the pressure," said Cai, 27, who in March 2020 finished top of the FIS World Cup standings for a record sixth time.
"I hope I can just ride at home next year free-minded and show my true ability and style," she added.
After spending the past winter at home without taking part in any international competitions due to the COVID-19 pandemic, the Chinese snowboarding team will tune up for Beijing 2022 by competing at three World Cup events-Copper Mountain, Colorado (Dec 9), Mammoth Mountain, California (Jan 6) and Laax, Switzerland (Jan 13)-barring any rescheduling of these meets, according to team manager Li Yang.