Hitting the slopes popular as China's skiing and snowboarding population soars
Share - WeChat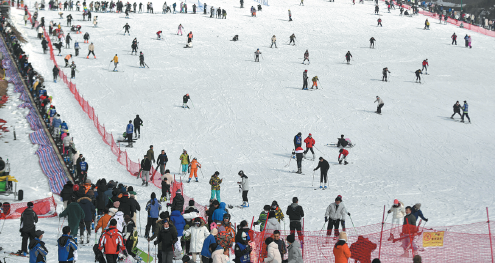 For trendy Chinese urbanites, grabbing a snowboard and hitting the slopes ranks high on the list of the most fashionable ways to spend a weekend.
The popularity of winter sports in China has grown dramatically in recent years, fueled by a nationwide participation push in the buildup to the 2022 Winter Olympics in Beijing and Zhangjiakou, Hebei province.
According to Economic Daily, Zhangjiakou's Chongli district has invested about 37 billion yuan ($5.7 billion) in its winter sports tourism sector in the space of just five years.
Chongli now boasts seven fully functional ski resorts, along with over 190 hotels and apartment complexes, and 169 ski runs totaling 161.7 kilometers in length.
With the improvement of services, the sector was showing strong growth before the COVID-19 pandemic struck. Ticket sales in Chongli surpassed the one-million mark in 2019, while in the same year admissions reached 4.42 million.
"China's skiing and snowboarding population is growing fast. From the perspective of consumption, demand is changing from just experiencing winter sports to making them a lifestyle choice," Zhou Wenqian, president of Thaiwoo Ski Resort in Chongli, told China Daily.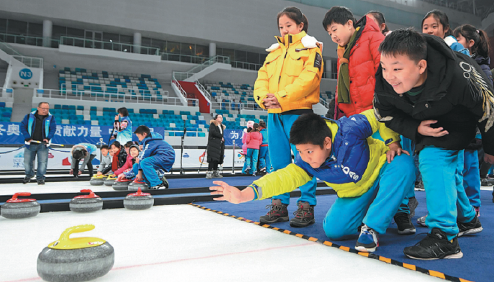 "Previously, skiing and snowboarding were not popular sports in China. But with the arrival of the Beijing Winter Olympics and a series of high-level international meets, more people have been attracted to these sports.
"Also, the education system is facilitating school kids' involvement in winter sports. That brings massive market potential for the sector. I believe in just about three to five years, even after the Beijing Winter Olympics, China's ice and snow population will keep growing."
According to the 2016-2025 ice and snow industry development plan approved by the State Council, China expects to have 50 million people participating in winter sports regularly, with the sector projected to be worth 1 trillion yuan by 2025.
It's certainly a lucrative business, with consumers increasingly willing to splash out to look and feel good on the slopes.
"I started snowboarding in 2016, and each year I've spent 5,000 to 15,000 yuan on the sport," Chongli regular and Beijing office worker Mei Shuyao told China Daily.
"My expenditure depends on how far I travel to enjoy it. It's more expensive for me to go to Chongli or some other places further away than going to ski resorts in Beijing. But compared with the true hardcore snowboarders, I'm just one of those on a small budget.
"Of all my equipment, my snowboard is the most expensive item. My clothes and boots are pretty affordable, but it's all worth it. After all, it's a sport that brings you a great sense of achievement."
Mei said a trip to a Beijing ski resort would typically set him back 150 yuan for gas and about 200 yuan for tickets. An excursion to Chongli would usually add up to about 2,000 yuan for Mei, including gas, tickets, a hotel room and meals.
This year, Mei's spending on his hobby increased after he persuaded his girlfriend, Li Xiaojing, to join him on the mountains.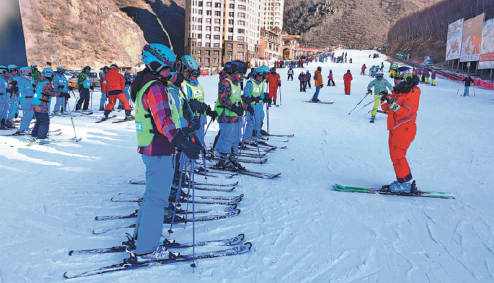 "I only started snowboarding in 2020 because of my boyfriend. It felt so cool when I saw him speeding down the ski runs," said Li. "So far I've spent about 10,000 yuan on equipment, apart from the stuff he (Mei) got me as gifts. Those are pretty expensive. But I've started, so I need to keep doing it."
To meet the demand generated by the likes of Mei and Li, Zhangjiakou has built two winter sports equipment industrial parks, where units are being quickly filled by manufacturers.
"The rapid development of the winter sports sector will boost the growth of equipment manufacturing. We should pay attention to this trend and facilitate its development," Zhangjiakou's mayor, Wu Weidong, told Economic Daily.
Tourism is also benefiting. According to 2021 China Ice and Snow Tourism Development Report, published by the China Tourism Academy in early January, China's winter sports attractions are expected to attract 230 million visits in 2021, with revenue totaling over 390 billion yuan-presuming the COVID-19 pandemic is under control.
With that in mind, resorts are continuing to employ strict health and safety measures.
Wanlong Paradise Resort, for example, requires travelers from low-risk areas to show their health QR code, have their body temperature checked and to wear face masks, while travelers from medium-risk areas must provide a negative COVID-19 test result to gain admittance.